Dealership Inventory & Stock Management
Easy to use tools, connected with accurate data sources, designed to simplify your inventory/stock management - with fixed and reasonable pricing!
Accurate Data & Taxonomy
Retrieve detailed vehicle information by registration/VRM, or browse through manufacturer, model, generation and trim to retrieve vehicle information by derivative.
Save time with our number plate recognition technology to identify the VRM in seconds.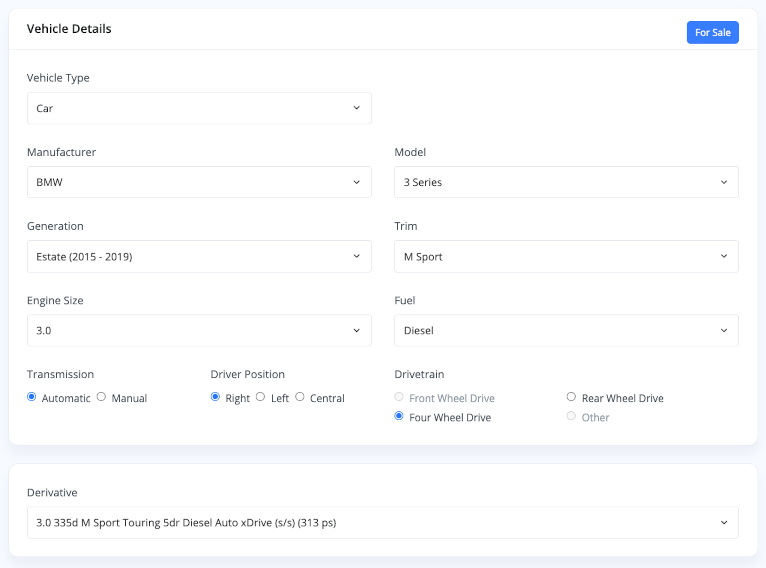 Automatic Factory Fit Detection
Select optional extras and add custom extras with ease, quickly view standard features, and instantly calculate the total selected optional extras cost.
Eliminate errors with automatic factory fit detection with selected manufacturers.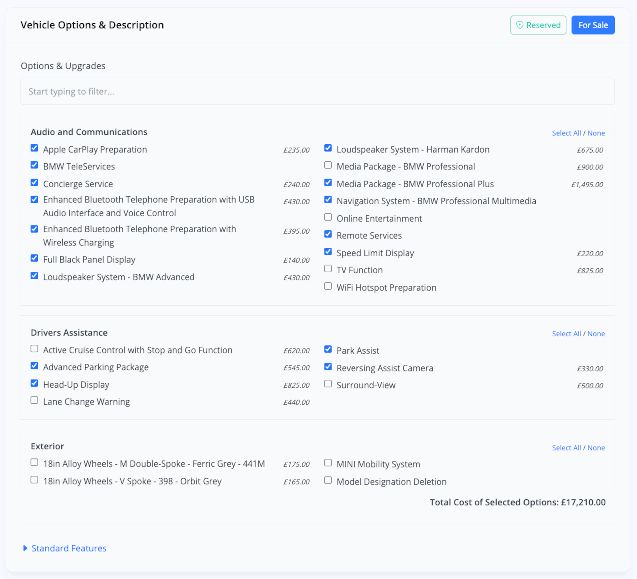 Simple Photo & Video Uploads
Upload photos in seconds, with automatic resizing, rotation and branding, then order them with ease using our seamless drag-and-drop features. Add custom ribbons and banners, and easily adjust, crop and edit your photos using the in-built image editor.
Add videos for hosting on our dedicated media servers, embed YouTube videos, and add library images with ease.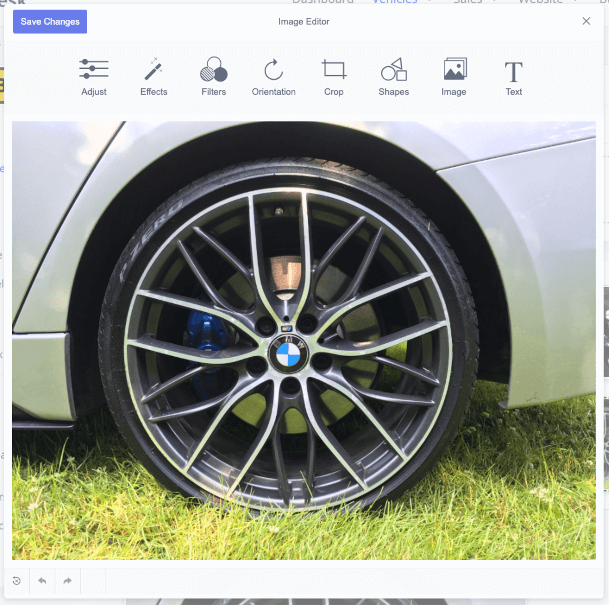 Integrated Valuations & Metrics
Save time with integrated valuations and AutoTrader Metrics, shown alongside your website and sales channel (marketplace) prices to help you price your stock accurately and quickly.
Full VAT and margin scheme support ensures you invoice correctly.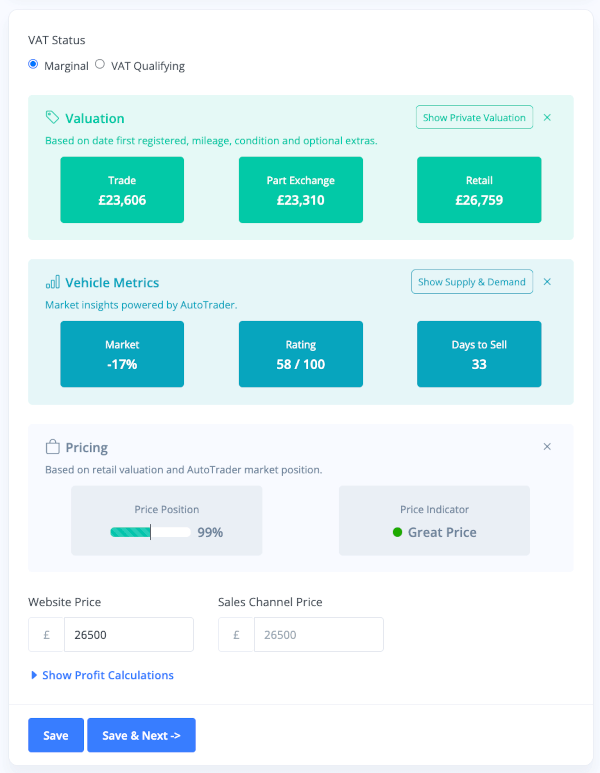 Compare Competitors
Price competitively by analysing competitor AutoTrader adverts, ensuring you find your perfect price point.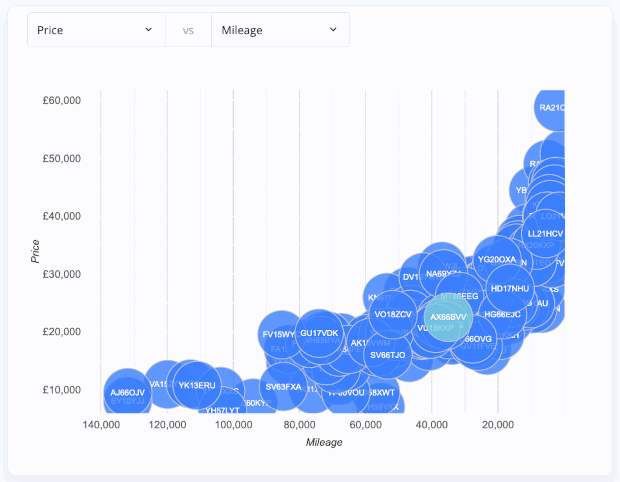 Vehicle Background & History
Automatic background checks flag any warnings automatically, optionally retrieve a full background check to dive deeper into a vehicle's history.
Verify a vehicle's identity quickly, then dig deeper into its MOT and finance history for peace of mind.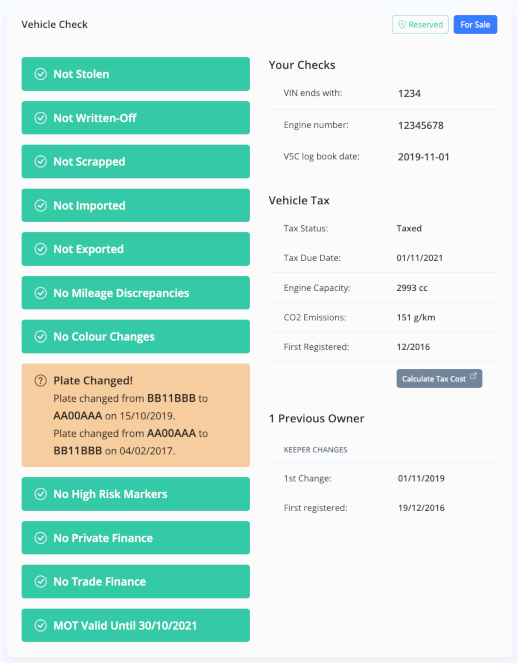 Marketplace & AutoTrader API Integration
Publish to your website, AutoTrader, Facebook Marketplace, eBay, Motors.co.uk & Gumtree all at once!
No more waiting hours for feeds, our comprehensive AutoTrader API integration allows you to publish new stock and changes to AutoTrader instantly!
Need another marketplace? We're ready to rapidly create new stock feeds for other marketplaces!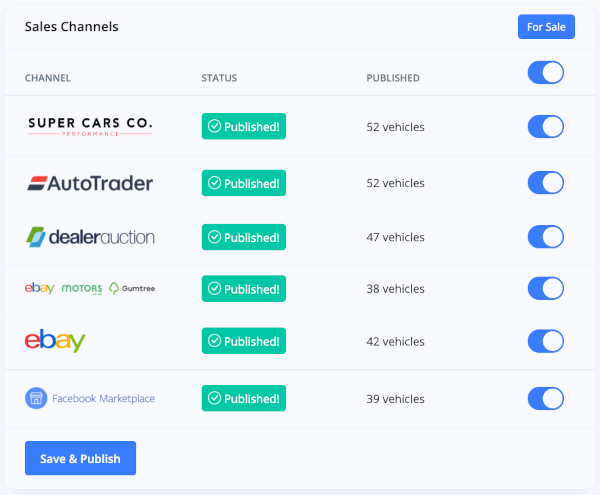 Silent Salesman
Generate silent salesman sheets in seconds with customisable vehicle highlights and content.
Utilise short-links and QR codes to direct customers to your website with usage tracking to help you identify if customers are looking at your silent salesman when your showroom is closed.
Optionally hide prices to guide customers to your website to retrieve current vehicle prices.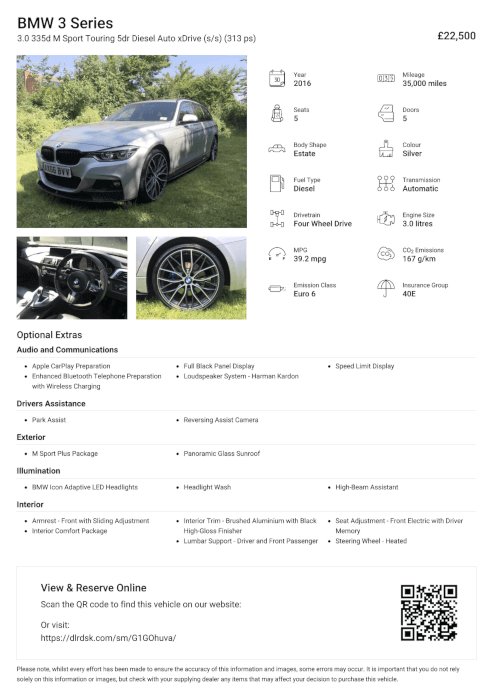 Image Templates
Create eye-catching templates to quickly add repetitive call-to-action images to your vehicle image galleries on your website and sales channels/marketplaces.
Automatically generated and updated representative finance examples help you share up-to-date finance examples with ease.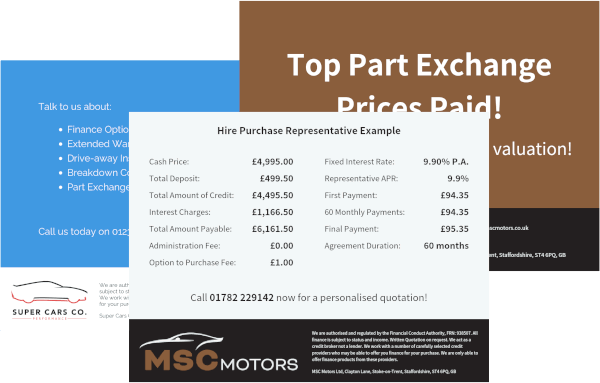 Analyse Prospective Purchases
Analyse up to 1000 vehicles simultaneously to retrieve valuations, sales metrics, estimated profit and return on investment, and much more.
Import popular auction catalogues, then filter and organise results to identify the best prospective purchases in seconds.